Chilli Fagara, a Hong Kong based Sichuan specialist approached me to completely refresh their range of Sichuan chilli sauces. With carte blanche as a jumping point, heaps and heaps of research was done to assess the current hot sauce market, especially regarding Asian and especially Chinese packaging. After stumbling across a set of beautifully illustrated, vintage Chinese matchboxes and fireworks packaging, the direction we were heading in became distinctly clear.
As the existing jars and set boxes were in abundance, another task with working with exiting silhouettes and packaging mechanisms.
The three sauces, MA (Numbing), LA (Burning) and Tang (Neutral) were then represented by illustrating three Chinese opera masks that identify, in a subtly humorous way, how one's face may look after tasting each sauce. The idea for the Chinese opera masks came from the the many masks that adorn the interior of the venue, helping the packaging design tie right back in to the overall aesthetic of Chilli Fagara.
A detailed approach to synthesising a misaligned print with textures resembling screen-printing or the effect of cheaply printed Chinese packaging, paired with decadent gold foiling, balances out the look and feel of contemporary illustration and traditional Chinese ephemera.  
An insert card was created to be placed inside the box as an introduction to each flavour and spice level.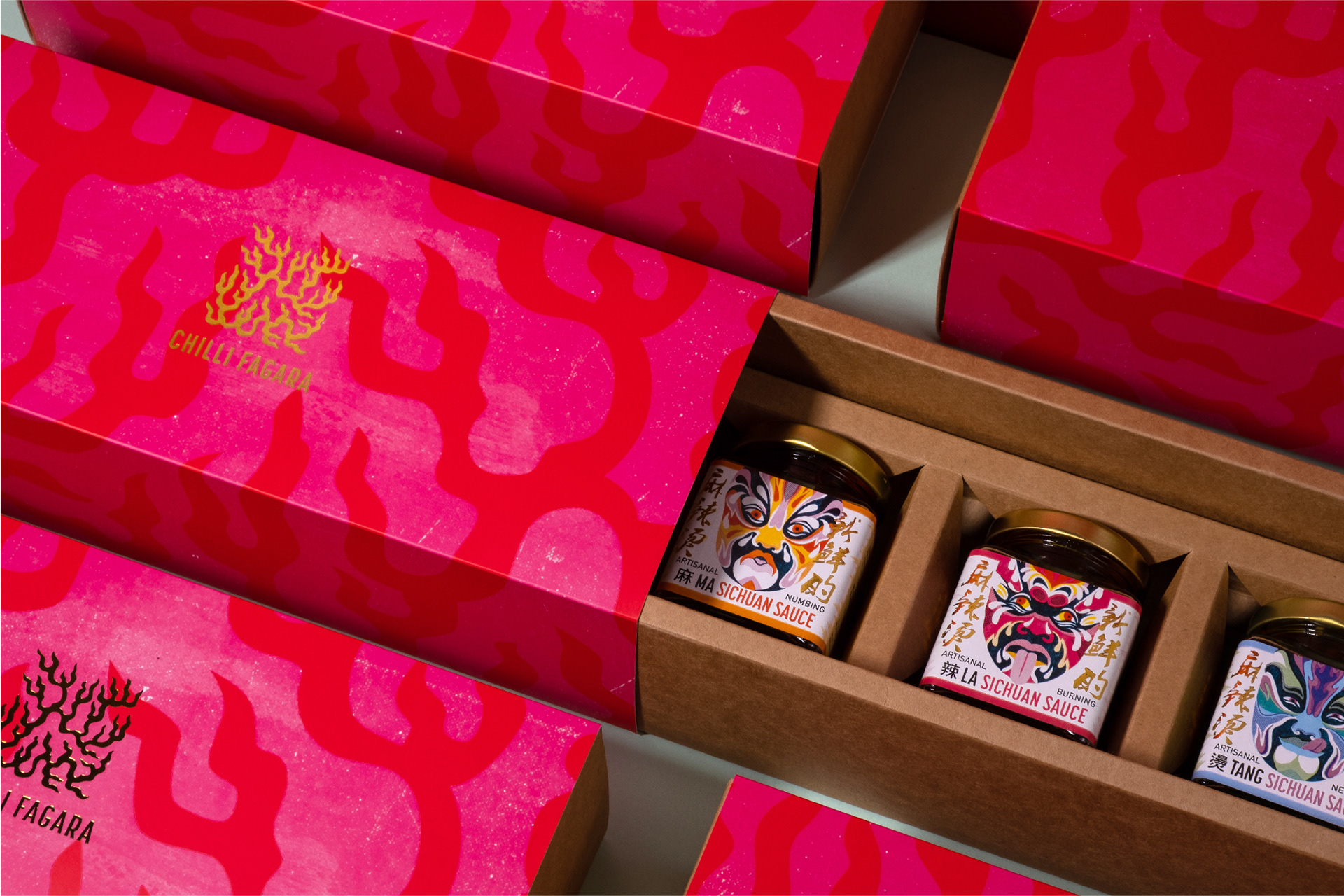 The project's scope also included an update to the sleeve that contained the contents of the already supplied craft card inner. Using the flame graphic from the the Chilli Fagara logo, a pattern was designed to to wrap around the sleeve's outer surface. A simple, elegant yet bold gold foil logo was the clear decision for the exterior, keeping the packaging fresh, lively but still sophisticated enough to adorn the shelves of the inside of the restaurants retail section.
Thank you for looking!
Art Direction: Dustin Holmes
Graphic Design: Dustin Holmes, Jenna Tupin, Stephanie Handley
Illustration: Dustin Holmes
Photography: Dustin Holmes
Post Production: Dustin Holmes, Jenna Tupin, Stephanie Handley
Project Management: Genna So